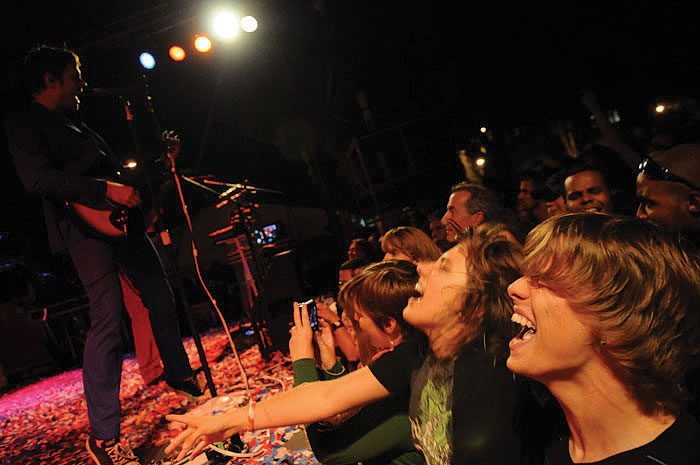 13 Aug

The Campus Experience
'Meet Me at the SAC'
You'll hear those words time and time again. (Only newbies laugh at the name, so don't.) So what does it mean?
At the heart of every lively campus is the student activities center—or the SAC, as we call it. It's the campus version of a downtown business district. The SAC has shops stocked with the essentials for campus living: dining facilities, textbooks and college apparel, plus athletics tickets and late-night snack offerings. It's also a great place to watch a movie, play some billiards or foosball or just hang out with friends. You can shoot hoops on the basketball courts—basketball is kind of a big thing here—or play racquetball.
You'll find yourself in the SAC for plenty of reasons throughout your UofL career, so it's important to get used to its layout and know exactly what is there for you.
What's There?
Food
Amenities
Hours
Monday-Friday: 7 a.m. — 11 p.m.
Weekends: 8 a.m. — 11 p.m.
It's a Barnburner
Trust us. By the time you graduate, some of your fondest UofL memories will have been made at the famous George J. Howe Red Barn. The Red Barn hosts a variety of events from orientation to graduation fairs and everything in between. Founded by two UofL students in 1969, the building—which once housed the Caldwell Tank Co. manufacturing operation—has been a gracious host for everything from guest speakers to punk concerts. Many campus organizations use the Red Barn for fundraisers, cookouts, concerts, competitions and award ceremonies. This year it is expected to host more than 700 (700!) events, along with giving away scholarships and endowments through its programs. If you ever want a place to chill out between classes, the Red Barn and the patio outside of it are great places to hang out. Make sure to say hi to George for us. His office is just inside the door.
The Oval
Eye-catching, isn't it? Grawemeyer Hall and The Thinker statue (recently refurbished) offer a monu­mental backdrop for this large green space that welcomes visitors to UofL. But it's not just for show. You're likely to run into a game of frisbee, soccer, football or whatever activities you enjoy. Student Activities Board and other groups even hosted an OK Go concert here. But don't climb on the big guy. The Thinker statue is a pretty big deal around here.
The Quad
Yes, we have a quad. No, you probably shouldn't go streaking there. Bordered by the Humanities Building and Ekstrom Library, it's a great place to stop and take a break between classes. Enjoy the serenity of green space and also the hustle and bustle, as a variety of groups also set up here to promote events and sometimes give away free T-shirts and other swag.
Hite Art Institute Galleries
UofL has its own fair share of up-and-coming student artists and many talented professors too. View their work at one of the Hite Art Institute galleries in Schneider Hall or in the Cressman Center for Visual Arts on Main Street.
Speed Art Museum
Think you need to travel to New York or Paris to see great art? You don't even have to leave Belknap Campus. The Speed Art Museum, located next to Ekstrom Library, offers several traveling exhibits throughout the year ranging from African and Native American to contemporary art. It has a great permanent collection too with everyone from Monet to Picasso in residence. And here's another great thing—admission is free for UofL students. Check it out fast though. It closes for a three-year renovation project this September.
Star-Struck
Take your place among the stars at UofL's Gheens Science Hall and Rauch Planetarium. It's not just for astronomy lovers. The planetarium hosts a variety of displays and shows as well as in-class viewings. If constellations aren't exactly your thing, enjoy cool laser light shows set to music ranging from Led Zeppelin to Radiohead. It's pretty trippy.
Old Louisville
Want to see something beautiful? You don't have to wander far. One of the largest Victorian homes preservation districts in the nation is UofL's neighbor. Old Louisville, as it's known around town, is not only home to many students living off-campus but to many interesting places and events that attract students, residents and visitors. Along with multiple eateries such as Ermin's Bakery & Café and Ollie's Trolley, the neighborhood has coffee shops where students can enjoy a cup of joe while they cram for an exam. Anyone 21 or older can do a little bar hopping in one of many eclectic bars and pubs, including the Thursday night hotspot, the Granville Inn (don't miss the great hamburgers here, too!). Want to visit a rock bar? Try the Magnolia Bar & Grill and its impressive jukebox. (Regulars call it the MagBar, and you should too.) Favorite events that draw thousands to Old Louisville include the free annual St. James Court Art Show, showcasing multiple artists' work in a jam-packed street fair, and walking ghost tours where you can hear stories of—and maybe catch a glimpse of—a spectral resident from Louisville's past.
Cardinal Towne
When the men's basketball team earned its spot in the Final Four last season, students weren't quietly celebrating in their dorms. Instead, they gathered en masse on Cardinal Boulevard in front of Cardinal Towne, a residential and retail development that opened in 2011. Since its opening, the spot has become the epicenter of entertainment and night life for students. The first floor of the development includes a slew of newly opened restaurants, including Papalinos, Qdoba, Jimmy John's, Cluckers and Home Run Burger. You can also cool off with ice cream at Comfy Cow and get a cup of joe at Quills Coffee.
Cardinal Towne Restaurants We Love