12 Aug

The Origin of the Species

Our Cardinal Bird, Louie, is not only one of the most recognizable mascots in collegiate sports, but also one of the most feared.

With teeth, a menacing snarl, slick dance moves and thrill-seeking hobbies like parachuting, he can strike fear into foes and excitement into fans. And he's been doing this for a century.

The wife of Liberal Arts Dean John Patterson suggested in 1913 that the athletics department adopt the state bird as the university's bird—and the red and black colors.

An official bird, though, does not a mascot make. That happened in 1952 when two female cheerleaders escorted fellow cheerleader T. Lee Adams to the home economics department and emerged with a cloth Cardinal head that was ready for action. And so, our mascot was brought to life.

Over the years, he adapted, changing his wardrobe from a suit and top hat to just a T-shirt. He's pulled a number of stunts—from laying a paper-mâché egg to now parachuting into Papa John's Cardinal Stadium before some home football games. He now mans a gigantic cannon that shoots shirts to fans at the KFC Yum! Center during basketball games.

Like any athlete, the Cardinal Bird has worked to make himself the best specimen he can be. He's gone from scrawny legged avian to a buffed-up bird who can proudly pump his chest in pride. You'll see the bird at most sporting events and, well, lots of other events, too.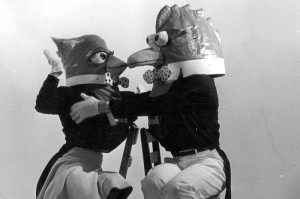 Behind the Mascot
By the way, the Cardinal Bird has a name—Louie. In some circles though, people still refer to it as C.B. (Cardinal Bird). The bird attends hundreds of events each year, and know that whoever's in the suit has to have lots of strength, as the costume itself weighs in at 50 lbs.